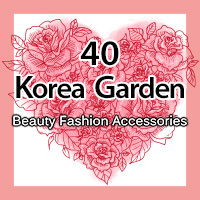 Welcome to our new online store!
We are 40 Korea Garden, an online shop operated by a Hong Kong girl and South Korean guy young couple. 
This platform aims to provide the hottest products in Korea, including skincare products, funny cartoon products and Korean-style clothing items. Without searching around South Korea in person, we serve to you with our sincerity and care.
In order to provide better shopping experience to our customers, 40 Korea Garden set up this online platform to ease the shopping steps.

Sending cargo through reliable airlines from Korea to Hong Kong few times a week, our staffs care with your shopping experience at the most, and at the greatest.

ALL products are bought and shipped from Korea through licensed stores and local retail branches. We extremely concern with genuine Korea products. That's why we concern entirely your shopping experience and after-sales services.

We offer various payment methods: Hongkong and Shanghai Banking Corporation (HSBC) / Bank of China (BOC) / Luso International Banking (Macau), and e-payment methods: 

PayMe / Alipay / WeChatPay / Tap&Go / Octopus App (Upon request) / Fast-payment System (FPS). 
Customers may use plug-in credit card payment via STRIPE [Visa / MasterCard/ AE acceptable], while EXTRA CHARGE will be delivered subject to Stripe current rate. (This safe payment is provided by Stripe with their encrypted server. None of your credit card information will be saved nor kept in our website nor our domain server, instead directly processed by Stripe. Our website only requests payment from our customers to Stripe.)

We offer a range of shipping services through reliable couriers, such as Hongkong Post, SF Express and online-to-offline(O2O) self-pick up services.

40 Korea Garden provides you with face-to-face self-pick up service with our partner - Easy Trade Centre, where locates in the centre of Mongkok, Hong Kong. (Opening hours: Monday to Sunday 12pm to 10pm (Except Public Holiday)

40 Korea Garden Pickup Point: Easy Trade Centre, 18/F, Attilio Building, No.579 Nathan Road, Mong Kok, Kowloon, Hong Kong. We welcome you to pick up items at our store. 

Purchasing over HKD 2,000 dollars within 30 days in 40 Korea Garden online store, 

Customers could immediately enjoy benefit from VIP privilege. In the #Priority Loyalty Scheme, 

Customers could get DOUBLE CASH REBATE in shopping at our store. 

#40 Korea Garden Ltd reserves the right to amend the program of the rules and regulations.
Delivery and Courier arrangements
40 Korea Garden is determined to provide reliable and point-to-point tracking logistic service through our long-term partner: 
SF Express. We highly suggest SF Express as top-rated courier. Our customers could enjoy picking up products from their pick-up network: 
SF Express Business Station
, 
SF Express Stores, 
Service Partners (Convenient Stores)
and 
Lockers
.
Below are the pick-up points offered by SF Express official: